I pay my deep respects to the land to the ancient spirit of the land and to the ancestors past and present future.
NGaire Howard is a fully qualified and internationally trained therapist covering many healing modalities including massage, aroma therapy, beauty therapy, facials & skin care rituals, energy healing reiki, yoga and meditation. She offers great love & support to many communities, and has a deep connection to the land, and the Indigenous cultures.




Through The Holistic Touch she offers massages, body scrubs and organic facials and skin rituals, as well as tailored individual healing. Unwind, be pampered, let yourself be soaked in her heart centered holistic treatments through her Mobile Day Spa in the comfort of your own home or holiday house.

NGaire offers her services in Australia on the central coast NSW and the upper Blue mountains NSW.

Massage
Rates are AUS $120 per hour for all services
---
Lomi Lomi

An ancient Hawaiian massage, a powerful transformative full body massage using long flowing "dance" rhythmic strokes for heart opening and healing. A truly tranquil experience to soothe your soul and invigorate your spirit.


---
The Holistic Touch Special

Full relaxation body massage (60mins) followed by an organic 30 minute facial. This is one of our most popular combination treatments requested by our customers.


---
Relaxation Massage

Full body massage tailored to individuals needs to strenghten well being, relieving tension and fatigue. The ultimate personal experience, an exquisitely enjoyable sensation to relax, revitalize and revive.


---
Swedish Massage

Swedish style massage designed to maximize relaxation and well being. Tailored to individual needs, using organic oils. Massage soothes the mind and body, relieves aches and pains, helps tone muscle and skin, increases circulation and lymphatic system, helping to eliminate toxins and stagnant energy away from the body.


---
Mobile Day Spa
|
Treatments at your Home
The Holistic Touch massage and beauty therapies can transform your place of choice into a tranquil centre of relaxation and healing. Minimum of two hour booking is required for mobile bookings. We also cater for group bookings creating a full retreat style experience. Areas covered are the central coast NSW and the upper Blue mountains NSW.
For more information please email or call to discuss full option details.
BOOK +61401343799
Hawaiian Heartworks 4 hands Massage

Holistic Touch is now offering the ultimate in skin cleanse and body work ritual. Rid your body of its winter coat with full body scrub and 4 hands massage to leave you feeling Clean & Fresh - Great for circulation, dryness, lethargy, mental clarity and general health and well-being.


---
Organic Facial

An organic treatment tailored to individual skin concerns and needs, using plant based bioactive ingredients with medicinal properties, to enliven the skin and rejuvenate.


---
Samvahan Massage

A Samvahan session is a deep conversation with your body; there is awareness, understanding and release, and it is a chance to rest in the present moment. Furthermore, there is a sense that you can feel at home in your body; beyond your past, beyond your doubt, beyond your pain. It is a celebration of all that you are; and what you are is a part of the Divine.


---
​Taking time out each day to relax and renew is essential to living well.

Energy Healing
Rates are AUS $120 per hour for all services
---
Reiki Healing

This ancient Japanese technique for stress reduction and relaxation also promotes healing. Described as a "laying of the hands" Reiki is based on the idea that "life force energy" flows through us, when this energy is low or blocked, we are more likely to get sick or feel stress. This treatment works to increase your overall energy and aid healing.


---
Full Body Scrub

A full body invigorating and stimulating exfoliation, to slough away dead and dull skin, leaving your skin silky smooth with a youthful glow.


---
Indian Head Massage

A relaxing holistic treatment utilizing therapeutic rhythmic movements that stimulate acupressure points. You will feel refreshed elevated and energized.


---
Foot Treatment

Reflexology foot massage is an incredibly healing zone therapy, it releases stress and congestion, helping clear channels of blocked energy to improve overall health and balance . This wonderful treatment including a warm mask and hot towel for your feet.


---
Immerse yourself in stunning private properties in the Kanimbla and Wolgan Valley's on the western fringe of the Blue Mountains within world heritage landscapes.

The properties are on Wiradjuri Country and are available for Retreats, Tree-Planting Ceremony, Wellness Events, Camping, Bush Walking, Meditation, Workshops, Indigenous Cultural teachings and Feminine Embodiment.


INFO +61401343799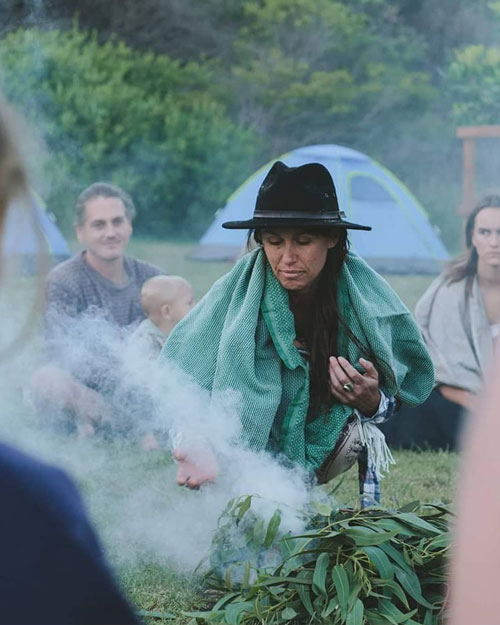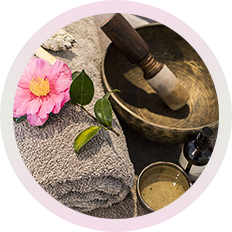 Gift Vouchers
The perfect gift for someone who loves a little pampering.
​There is no better way to treat a friend or a loved one.
CONTACT +61401343799